Hawaiian Floral Lei Design Show
with Special Guests
Presented by Hawaii Tropical Flower & Foliage Association
Mayor Bryan Baptiste Perpetual Trophy awarded for "Best Island Lei" voted by 'People's Choice' at the event.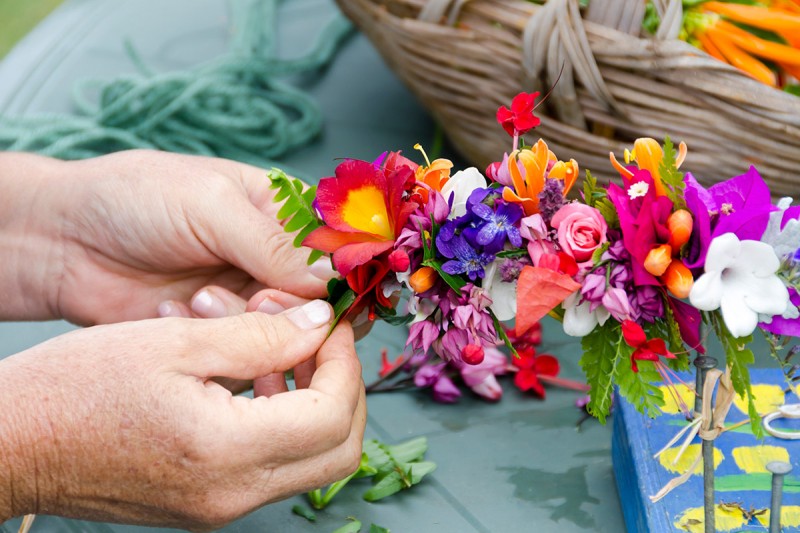 Lei making by Elvrine Chow, Heavenly Hakus
Hawaii Tropical Flowers and Foliage Association - Kauai will be presenting a Tropical Flower Design Show Friday night at the Fair featuring Kauai's finest floral designers. In addition we will feature local lei making demonstrations and a "Keiki Floral decorating" section during the course of the evening. Our annual "Amateur Floral Arranging Contest" with prizes and the winners name will be placed on the beloved Mayor Bryan Baptiste Perpetual Trophy and displayed proudly in the Mayor's office will again be fun for all.
Event Flower Design Show starts at 6:30, those desiring to enter the amateur contest need to sign in at the end of the Agricultural exhibition tent for the event and entries are taken until 7:30. Amateur contest starts at 7:45. We are accepting entries from persons that have not entered the "Amateur Floral Arranging Contest" in the past. For additional information please call Johnny at 651-9711
6:30-7:30
Tropical Flower Arranging Design Show
7:45-8:45
Amateur Flower arranging Contest (Sign up by 7:30)
8:45–9:30
Tropical Flower Arranging Design Show
Visit our website at
www.hawaiitropicalflowers.org