Aloha and welcome to the 2014 Kauai County Farm Bureau Fair! This year's fair will be held August 21-24, 2014
at Vidinha Stadium in Lihue.
Admission:
$5 adults, $2 children, $4 seniors
Watch out for specials!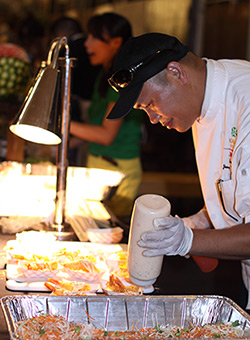 Congratulations to the Celebrity Chef Cookoff 2013 winner!
Chef Rey Montemayor, Kaua'i Marriott
Chef Rey Montemayor's winning recipes:
Kauai Coffee Rubbed Kaneshiro Roasted Pork with Chipotle Coffee BBQ Sauce
Kekaha Shrimp Tempura with Spicy Coffee Aioli
Espresso Panna Cotta with Coffee Jello Shooter
Kauai mayor Bernard P. Carvalho, Jr.
welcomes you to the fair!
Aloha! I am proud to welcome you to the 2013 Kauai County Farm Bureau Fair, one of the largest community events on the island. We all look forward to this annual event because there's something for everyone to enjoy at the fair, from keiki to kupuna!
This year's theme "Growing Kauai Together" truly captures the essence of what is happening in agriculture here on the Garden Isle. And the Farm Fair provides a wonderful showcase for this with the 4-H Auction and Petting Zoo, Fruit & Vegetable Show, Kauai Coffee Celebrity Chef Cook-off for Charity, and so much more.
The fair also gives us a chance to recognize the contributions of the individuals who have worked so hard over the years to establish an agricultural community on Kauai, along with the efforts of the younger generation who are poised to lead the agricultural industry into the future.
On behalf of the people of the County of Kauai, I extend a big mahalo to the organizers and volunteers of the Kauai County Farm Bureau Fair, who work tirelessly year after year to make this event a success.
Aloha Pumehana,
Bernard P. Carvalho Jr.
Mayor, County of Kauai